Contact Us



We live and work at the ranch and are always ready to take your phone calls and respond to email. While we do not yet have a public tasting room, we will gladly schedule appointments for vineyard tours or make ourselves available if you wish to come to the winery for a tasting or to purchase wine. Please call ahead for your visit, so we're certain to be available.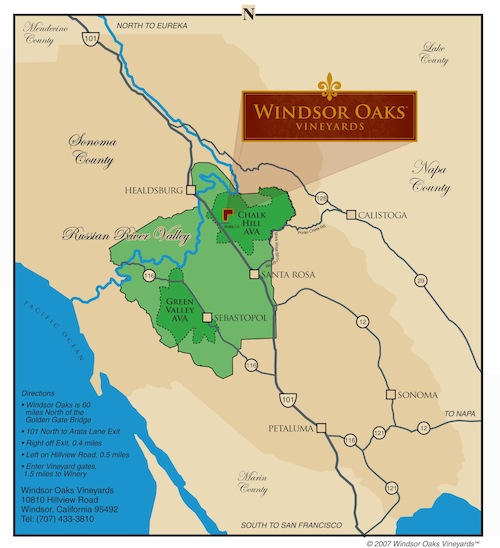 Directions
Windsor Oaks Vineyards & Winery is 60 miles North of the Golden Gate Bridge
101 North to Arata Lane exit (it is next exit after main Windsor exit)
Right turn at base of ramp on Arata Lane.
Go 0.4 miles to our white vineyard sign with Russian River Valley logo, where you will turn left onto Hillview Road.
Go 0.5 miles on Hillview Road. Road ends at our gate.
Enter Vineyard gate and proceed 1.5 miles to Winery.
10810 Hillview Road
Windsor, California 95492
Offices: 707.433.3810
Winery: 707.433.4050
Fax: 707.433.3616
Wine Club, Wine Orders, VIP Tours & Tastings
Please email us at wine@windsoroaks.com or call 707.433.3810.
Wine Grape Purchase Inquiries
Please contact Vineyard Operations at info@windsoroaks.com or call 707.433.4050.
Send us a contact request using the below form, and one of our team members will be in touch shortly!